T-HACKS is a unique hackathon experience, centered around development in Ghana and Africa by extension. Thirty(30) budding innovators across Ghana will have the opportunity to work in teams of up to five to develop a functional solution to a specific development problem of their choice. This will take place on site at our Hackathon setup situated at SOS-Hermann Gmeiner International College over the course of 3 consecutive days, with a closing ceremony at 8-Volta workspaces.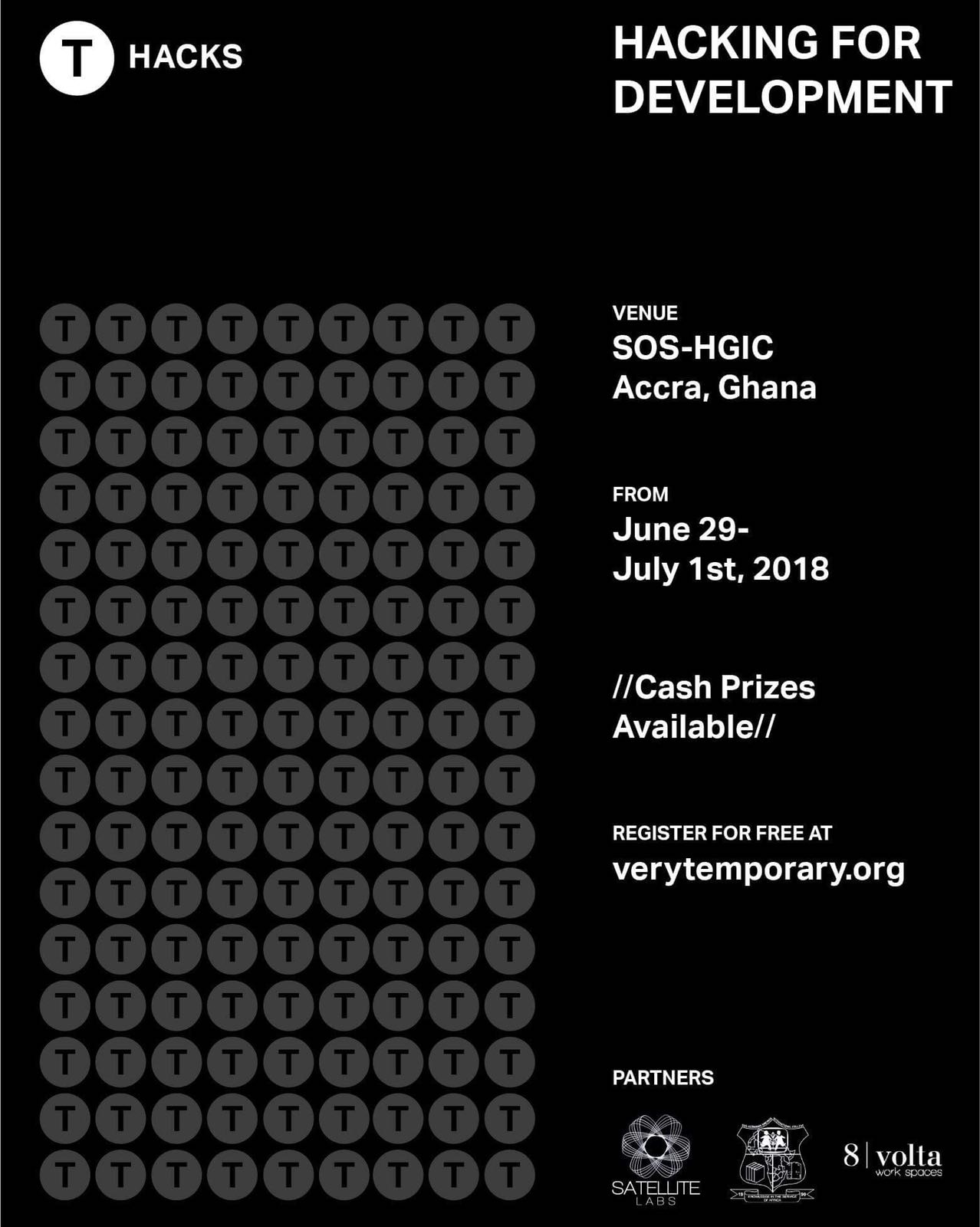 Introduction to T-HACKS
Ghana, as a rapidly developing nation, has immense potential to apply software and/or hardware products to improve and quicken the overall development of the country. To be able to compete in the global market, relevant authorities need to create avenues that will allow young individuals in the STEM (Science, Technology, Engineering and Mathematics) fields to apply their technical skills to solve pressing issues we face. Unfortunately, there are not enough of these opportunities and as a result, we do not get to see the ingenuity of the young population of Ghana put to use.
In line with our core values of progressive thinking and youth empowerment, we seek to help solve this problem by creating an environment that will allow young innovators, between the ages of 16 and 28, share ideas and have the required mentorship and assistance necessary to implement some of these ideas over the course of three consecutive days.
In addition to providing a conducive environment for idea generation and development, the team at VERY TEMPORARY will also offer guidance and mentorship throughout the development process, in addition to coaching hackers on ways they could make their hackathon developments valuable to Ghana and the world at large.
This event shall take place from the 29th of June to the 1st of July 2018 at SOS-Hermann Gmeiner International College in Tema, Ghana.
Frequently Asked Questions
What is a Hackathon?
A hackathon is an event usually spanning 2-3 days where software developers, designers and other tech related enthusiasts dedicate their time to developing functional software and/or hardware solutions in small teams.
What skills are required to participate in T-HACKS?
There are no strict requirements to participate in T-HACKS. However, we recommend that participants have adequate background knowledge in their respective fields of interest and the learning drive to be able to pick up new skills during the event.
Additionally, some proficiency in at least one programming language is recommended. This may include, but is not limited to, Java, Python, C/C++ & Javascript.
What is the cost of participation?
T-HACKS is a completely free event, with food and specific technical resources provided by VERY TEMPORARY and its partners.
The only thing hackers will need are their laptops and their enthusiasm to power through the entire hackathon in order to bring their ideas to life.
What do I gain by participating in T-HACKS?
T-HACKS provides a good learning and networking opportunity for young people with similar interests in technology and the development of Ghana, and Africa, at large.
Additionally, although T HACKS is not a competition, there will be cash prizes along with other interesting awards for the most impressive developments.
Where will T-HACKS take place?
The event will take place at SOS-Hermann Gmeiner International College in Tema, Community 6.
The closing ceremony will take place at 8-Volta workspaces in Airport Residential Area, Accra.
How will I get to the T-HACKS event space?
VERY TEMPORARY shall shuttle all selected hackathon participants to and from the event space at SOS-Hermann Gmeiner International College in Tema, Ghana.
Participants will meet at the shuttle pickup point* at a selected time daily and shall be dropped of at the same location at end of the day's activities.
*Pickup/Dropoff point and time to be communicated closer to the event
Who owns the intellectual property developed during the hackathon?
All products and ideas developed during the hackathon remain the intellectual property of the hackers, and can be used by them in whatever way they wish.
Can I register together with my team?
Each person registers individually for the event, however, in the days leading to the event, and on the first day of the event, you are encouraged to network with and can form teams with other hackers.
We are no longer accepting sign ups for the June 2018 T-HACKS.
Next hackathon soon.